Online JKD Club
From: £30.00 / month
Description
Achieve amazing results at Tommy's online Jeet Kune Do club!
Let Tommy Carruthers be YOUR Secretary of Defense!
Now you don't need to live in Scotland if you want to receive regular Jeet Kune Do instruction from Tommy Carruthers. That's because for the first time ever you are just a few clicks away from learning Tommy's very best self defense techniques straight from the man himself!
When you become a Tommy Carruthers online club member you will be able to view ongoing bi-weekly Jeet Kune Do video lessons from Tommy Carruthers that have been specially designed to get you results fast! The information that Tommy is going to present at his online Jeet Kune Do club is not available anywhere else. You won't find it on YouTube, Limewire or even on his normal, public website! This club is going to be intended for people who are serious about learning cutting edge (sometimes deadly) Original Jeet Kune Do techniques.
Each week you will gain access to 2 new videos, every 3.5 days you are moved on to the next lesson. It'll be just like being a member of Tommy's regular martial arts club! But unlike a normal club, you'll be able to watch Tommy demonstrating the techniques over and over again plus every single lesson will be tailored to suit YOUR individual needs. So, on a Tuesday night for example, a beginner may be asked to view a video about stance while a more advanced member could be working on exercises to boost explosiveness.
The online video club consists of a total of 300 video lessons.
These days Tommy Carruthers spends a great deal of his time travelling the world, attending seminars and other martial arts related events. Tommy appreciates the value of meeting and training in person. So, if you are a member of Tommy's online Jeet Kune Do club and you can't come to train with Tommy then he will come to you! That's because all club members will receive massive discounts on future Tommy Carruthers seminars. All members will also be able to contact Tommy directly at any time of their choosing to ask questions and seek advice whenever they choose (and they can be sure of a speedy response)!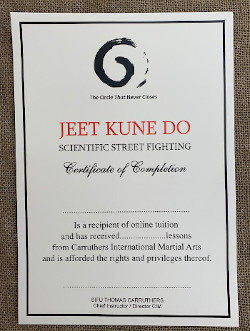 You will receive a certificate from Tommy on completion of the First Series (108 lessons) and also on completion of the Second Series (192 lessons).
Subscription access – Price: £30.00 per month
Additional information
| | |
| --- | --- |
| Subscription type | Monthly, 3 Monthly, 6 Monthly, Yearly |