GAIN THE LIFE-CHANGING BENEFITS OF MARTIAL ARTS PERSONAL TRAINING
Learn Tommy's very best self defence techniques straight from the man himself
Jeet Kune Do Training Glasgow
Tommy's One-to-One and Group JKD training classes are designed for individuals that want to learn as fast as possible, become instructors in Jeet Kune Do, or to simply improve confidence and skills.
Training is taught at your own pace, at various locations in Glasgow.
Limited places available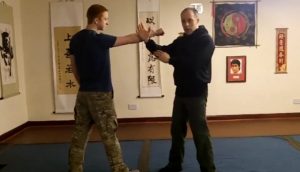 Based on unarmed combat techniques from the Second World War, but simplified for the modern day.
The series is based upon the idea that when an opponent comes toward you there will be a collision, a crash. In this situation if you control your opponents head then you can quickly and effectively bring your opponent under control.
Tommy demonstrates techniques for different scenarios such as when you are on the inside or outside of the opponent's punch or kick.
50 days access, £35.00
More info